Tayberry - Planting and Care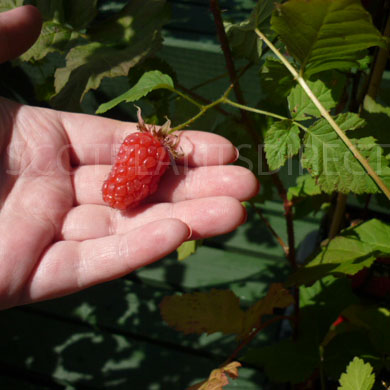 The Tayberry has a distinctive flavour, produces heavier crops than a Loganberry and is excellent for cooking, freezing and jam making. Season of use is July. The fruit is large and aromatic. Bred in Scotland, the Tayberry is a cross between a Raspberry and a Blackberry. Tayberries are best when used fresh - still warm from the heat of the sun. Try them with cream or low fat dairy products and then wonder why you have never grown this wonderful fruit before!
Planting
Tayberry Plants are vigorous growing and need about 4sq metres of space on fence or wall, or trained on wires. Soil should be reasonably fertile and well drained.
Harvesting
Tayberries should be picked when they are fully ripe, usually when dark red or maroon coloured. That is when the fruit will be at its sweetest.
Pruning
Pruning is by cutting out the wood that has just fruited in late summer and tying in the new growths to fruit the following year. Do not cut off the new growth or you will not have any fruit the following year.