About Us
Due to the coronavirus pandemic, and in order to protect the safety of our employees as well as the public, Hedgehogs Nursery has decided not to allow the public access to the nursery during this time. Orders can be made over the phone – 01592 772274 for our various products and arrangements made for delivery of topsoil, ornamental and composted bark, gravels and type 1. All purchases are paid over the phone before the leave the premises.

Our retail online shop will have a new and exciting spring line and customers can order - items can be delivered or collected (arrangements have to be made)

Shop at ScotPlantsDirect.co.uk for some great buys! Online shop open 24hrs/ 7 days a week!!

If there is a need to collect anything ordered, customers will be allowed access to the Nursery to collect their goods – which will be left out for collection. Collection times will be specific, and we do expect strict adherence to pick up times.

We thank you for your patience during this time.

Following the continual success of our ScotPlants Direct e-commerce business, we have now opened "ScotPlants Direct Nursery Garden Centre" in Glenrothes, Fife, in association with Hedgehogs Nursery Ltd located in SouthField Industrial Estates area. This means you can take advantage of our great products and prices without having to pay for delivery.
In addition to the products we sell online. Scot Plants Direct offers the following for local pick-up and delivery only:
Gravel: Sold in small 20kg bags OR in a large bulk "builders" bags, or loose loaded in your trailer.
Bark: Sold in small 70L bags OR in large bulk "builders" bags, or loose loaded in your trailer.
Note: We do provide a delivery service to customers purchasing Bulk "builders" bags, but only to the local Fife region.
Visit our Nursery and Garden Centre
| | | |
| --- | --- | --- |
| Address: | Opening Hours: | |
| Crompton Road | Monday - Friday | 9am - 4pm |
| Southfield Ind Estate | Saturday - Sunday | 10am - 2pm (call) |
| Glenrothes | Call Weekends before coming | |
| Fife | | |
| KY6 2SF | 01592 772274 | |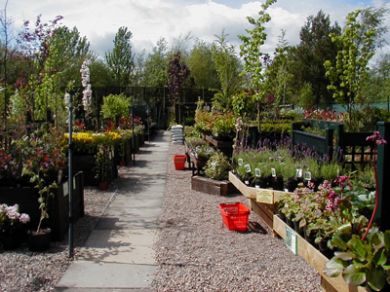 Scot Plants Direct is the trading domain name of Hedgehogs Nursery Ltd. which is a family run business and has been established for over 20 years. We are well known to the local residents in Glenrothes, Fife, Scotland and have been involved in providing plant material to local authorities, landscapers and garden enthusiasts locally as well as nationwide. The nursery and garden centre is also where we maintain plant production and despatch operational facilities as well as landscaping projects.
Scotplants Direct History
Hedgehogs Nursery had its beginning in 1984 when Robert Kean purchased land from the then Glenrothes Corporation in Glenrothes Scotland. He was mainly involved in all aspects of hard and soft landscape projects from design to construction. Robert is a fully qualified Landscape Architect having attended University and Edinburgh Botanic Gardens for formal training. After graduating in 1974 he was employed by the then Glenrothes Corporation and was involved in the landscape and design of the 'new town' in Glenrothes.
In 1978 he took his skills to the Middle East where he was project manager for landscape design projects of airports. When he returned to Glenrothes, Scotland in 1994 he began his own company Hedgehogs Nursery and Garden Design as well as growing his own plant material to supply the landscape business.
Hedgehogs Garden Centre was created in 2004 mainly to provide plants to the local area that were grown in our nursery. Since then there has been a slow move toward creating a more diverse business hat has now evolved into the production of native hedging plants as well as the supply of garden sundries which are despatched UK nationwide and even abroad.
Today the business has expanded production and supply a large range of hedging plants (bareroot and pot grown) as well as garden sundries. During our bareroot season which runs from late October until Mid March, the hedging plants are lifted from our fields on order and brought to our nursery, placed in special holding fields and then despatched throughout the UK and abroad.
Due to the ever increasing demand for fruit we have introduced a new range of fruit, soft and top, from pot grown to bareroot. We especially have invested in super fruits such as blueberries which have become a very popular berry for us, and we now offer blueberries from 2 years old up to about 4 years old. Our berries are grown in mesh tunnels and are offered year round. We are always looking for new and refreshing plants to grow especially since the gardening world is changing so fast.
Our online shop now offers a wide range of plant material from our Scottish nursery as well as our line of fruit, including our blueberries and recently due to our growth Robert's son Liam has joined the company to develop further the Internet side of the business and the general management of the company. We also have 3 full time staff and up to 5 partime staff during our peak seasons.
Hedgehogs Nursery is located off the B921 on Crompton Road, Southfield Industrial Estate, Glenrothes Fife, Scotland. You can call us on 01592 772274 or come in for a visit.