Plants for Hard to Grow Areas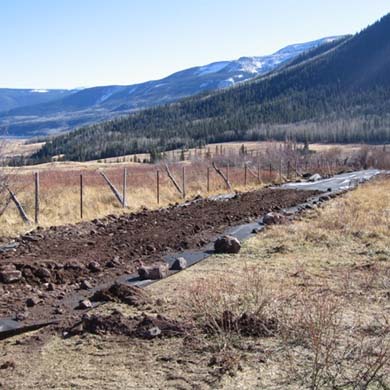 Planting for Problem Areas can be a headache when trying to decide or find the right plants. ScotPlantsDirect offers a few suggestions for those difficult areas that need plants or areas that are needing that 'instant hedge'.
What to Plant Where
Plants / Hedging for Privacy / Screening / noise reduction
Need a bit of privacy or want to screen something from view?
Leylandii (

Castlewellan Gold

) or

(Green Leylandii

) – Fast growing evergreen offering almost instant hedging and privacy reaching heights of up to 10ft and more

Western Red Cedar (Thuja Plicata) - Evergreen conifer similar to Leylandii but can be more easily maintained unlike Leylandii, as you can cut back into the old wood and it will still grow back – slower growing about 2ft per year making it easier to maintain

Prunus laurocerasus (common laurels)

– Ideal evergreen for that 'instant' effect. Easy to maintain – and great for wet sites. Creates a dense hedge effect growing about 1-2ft per year.

Ligustrum ovalifolium (Privet)

– Fast growing, easy to maintain, forms dense hedge

Ilex (Holly)

– Evergreen providing year round protection
Plants / Hedging to keep Intruders out
Securing property is always a priority to many – planting the right type of hedge to keep intruders at bay will act as the first line of defence for many situations. Consider:
Crataegus Monogyna (Hawthorn/ Quickthorn)

– Keeps farmyard stock at bay – small spiny thorns, beautiful flowers in spring, deciduous

Prunus Spinosa (Blackthorn)

– Similar to hawthorn, but spines are larger and fruit produced are sloes (great for making gin)

Berberis

– Always a great favourite as it is very thorny, with good winter colours, easy to maintain – deciduous and evergreen

Ilex Aquifolium (Common Holly)

– A traditional evergreen hedging plant offering both privacy and protection. Slow growing – but mix with other hedging for great effect

Pyracantha (Firethorn)

– Fantastic coloured berries in winter, fast growing, making this an almost impenetrable hedge – thorns are sharp

Rosa Rugosa

– Fast growing, large rose hips – beautiful flower colours with small, tiny, yet sharp thorns – best intruder hedge
Plants / Hedging for Boundaries
Boundary hedging can be formal or informal.
Escallonia

– Beautiful evergreen with red, pink, white delicate flowers. Easy to maintain – grows about 1-2ft per year

Fagus Sylvatica (common beech, green and purple/ copper)

– Deciduous, with leaf retention in winter. Beautiful coppery foliage in the winter

Western Red Cedar (Thuja Plicata)

– Considered one of the best conifers for hedging. Evergreen, majestic and can be cut back to the wood. Easier to maintain then Leylandii

Taxus (Yew)

– Fantastic formal and dense hedging plant.

Buxus Sempervirens (Common Box)

– Traditionally a favourite for many- growing about 4-8 inches a year. Easy to maintain

Ligustrum Ovalifolium (Privet – Green / Gold)

– Easy to grow and care for. Ideal for many situations. Average growth 1-2ft per year

Corylus Avellana (Hazel)

– Hedging with a difference – fruit

Lonicera Nitda (honeysuckle)

– Evergreen, dense, fast growing hedging with an edge – masses of flowers in spring
Plants / Hedging for coastal and Windy exposed sites.
These are difficult areas when seeking protection from these elements. Choosing the right plants will help lessen the wind and offer some warmth to your environment.
Escallonia

– Great for exposed situations and coastal areas

Oleria Haastii

– Daisy bush, hardy and one of the best for coastal situations

Rosa Rugosa

(

Alba)

– Fast growing, deciduous rose hedge

Rosa Canina (Dog Rose)

– Fast growing, deciduous rose hedge

Hawthorn

– Good for windy, exposed situations as well as Blackthorn – especially if the soil is a bit heavy

Hippophae rhamnoides (Sea Buckthorn)

– Always the best survivor in coastal areas – dense hedging, fast growing
Add the following trees within the hedgerow planting to offer even greater protection:
Alnus (Italian Alder)
Betula pendula (Silver Birch)
Salix alba, caprea (Willow)
Sorbus acuparia (Rowan)
Sorbus aria (White beam)
Or under plant with shrubs:
Azalea (deciduous)
Berberis
Buddleja davidii (and globosa)
Cordyline australis
Erica carnea
Fuchsia magellanica (Mrs Popple)
Hebe
Lavandula Hidcote
Phormium
Pittosporums
Scented Plants / Hedging
Lots of plants have scented flowers. Many of the best are winter flowering and some remarkably small flowers can produce very strong fragrances. Scent is often best at dusk and on warm and still days
Buddleja

Choisya

Corylopsis

Hamamelis

Lonicera periclymenum

Osmanthus

Phildadelphus

Rosa (all varieties)

Syringa

Viburnum (winter flowering)
Plants / Hedging for Clay soils
Many gardens have to contend with clay soils, especially those situated in flat valleys. Clay soils are heavy, often tending to set and crack when too dry. Regular waterlogging, compaction and lack of air around the roots can kill many plants and the easiest way to deal with clay is to garden on it, rather than in it. Many plants can be successfully grown in raised beds or in containers:
Trees / shrubs / climbers
Acuba japonica

Berberis darwinii and stenophylla

Cornus alba
Contoneaster
Hamamelis
Humulus
Populus
Pyracantha
Salix caprea
Syringa vulgaris
Weigela florida
Perennials
Hosta
Houttuynia cordata 'chamaeleon'
Iris laevigata
Plants / Hedging for wet sites
This is soil that for part of the year is saturated, possibly with standing water, and at other times it dries out. Areas that are prone to this situation would be newly built housing - where there is a soggy corner. Consider:
Cornus flaviramea, Cornus alba (Dogwood)

– One of the best for the wettest of soils – survives happily.

Carex (grasses)
Popular (Populus)
Pyracantha
Salix (Willows)
Rosa Rugosa
Western Red Cedar (Thuja)
Elder
Hornbeam
Guelder Rose