Heathers Planting and Care Guide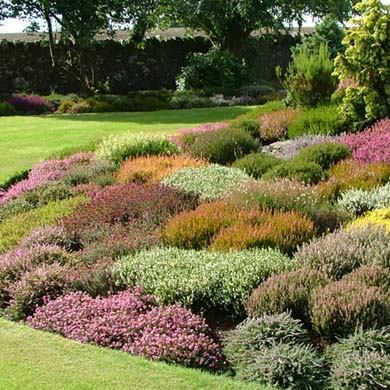 Heathers are the ideal plants for low maintenance gardens. They will give you colour all year round with Winter / Spring and Summer/ Autumn flowering varieties as well as many different foliage colours e.g., red, orange, yellow and silver.
Species
Calluna vulgaris
Daboecia
Erica Cinerea
Flowering June / September
Erica Carnea
Flowering December / April
Erica Darlyenyensis
Planting
Heathers look best planted in groups of 3, 5, 7, 9 or more of the same variety
Plant 30cm (12 ins) apart 9 plants to 1 sq metre (10.8 sq ft) for heathers in 8cm pots. Plant 7 /9 plants to 1 sq metre
Heather in 1 litre pots plant about 5 /7 per sq. metre.
Dig in some peat or ericaceous compost as you plant
Heathers prefer a sunny position although the winter flowering varieties do not mind some shade
Plant anytime although spring and autumn are best.
Over the first year water if necessary to get well established plants
Pruning
The most important part of keeping your heathers compact is pruning in the second half of March. Trim all the dead flower heads off all the summer and autumn flowering plants. Winter flowering heathers can be trimmed after flowering although this is not so essential as they tend not to grow so tall.
Within two years the heathers will have grown together and with proper trimming your garden will be easy kept and will have colour all year round.