Red Currants - Planting and Care Guide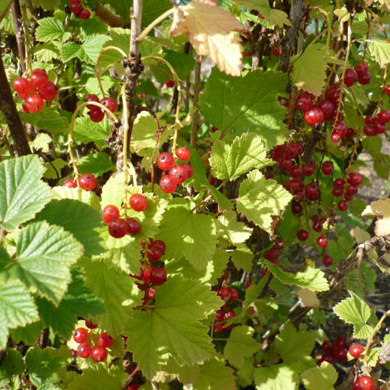 Redcurrants are more often used for cooking and for jams and jellies. Red Currants are closely related to blackcurrants and are cool climate plants which do well in the northern regions and will tolerate partial shade although the fruits will ripen more quickly and taste sweeter if given some full sun.
Where to grow
Red currants grow on almost any well-drained soil. They tolerate partial shade, but do not like being waterlogged. Hand weed to make sure the planting area is free of weeds before planting.
Planting
Bare-root bushes are planted between November and March in well drained slightly neutral to acid soil (about pH6.7 is ideal) Allow about 5ft distance between bushes and 5ft between rows. Container grown (Pot grown) can be planted at any time depending if conditions are suitable. Red Currants are best planted in full sun for sweet, tasty berries, but can be grown against a shady, north facing wall, although this will decrease the flavour of the fruit.
Pruning and training
Grow as stand-alone bushes or in rows as cordons. Pruned and train in the same way as gooseberries cutting out old growth and pruning new growth in winter. Red Currants bear their fruit on old wood. Prune bushes by removing diseased or very old branches in winter, then prune new growth back to two buds in early summer to keep the plants compact. Leaders should be pruned to outward facing buds unless the branches are bending in which case they should be cut to an upward facing bud.
Harvesting
Currants can be harvested in summer when the fruits are firm and juicy. Cut whole trusses and use immediately or store in the fridge for a few days. Alternatively place trusses in bags and put into freezer for later use.